FLASH SALE: ADVANCED COMPLETE SUPERFOOD
AS LOW AS $19 PER BOTTLE + FREE SHIPPING!
Kill Sugar Cravings In Just Seconds
AND...
Get

ALL

 your daily nutrition needs in just a tasty 1oz liquid shot!
This powerful elixir contains 66 powerful SUPERFOOD ingredients in just a simple 1oz serving that you can take in less than 3 seconds...
I absolutely love this stuff because it is a natural SUPERFOOD antioxidant liquid formula created to maximize absorption. It simplifies your daily multi-vitamin regiment by giving you the necessary vitamins and minerals in one easy to take shot...
Best of all, it's GMO Free, Gluten Free, and Caffeine Free!
It doesn't contain any major allergens, and it's safe for diabetics too!
And unlike other liquids, this stuff has a yummy berry taste.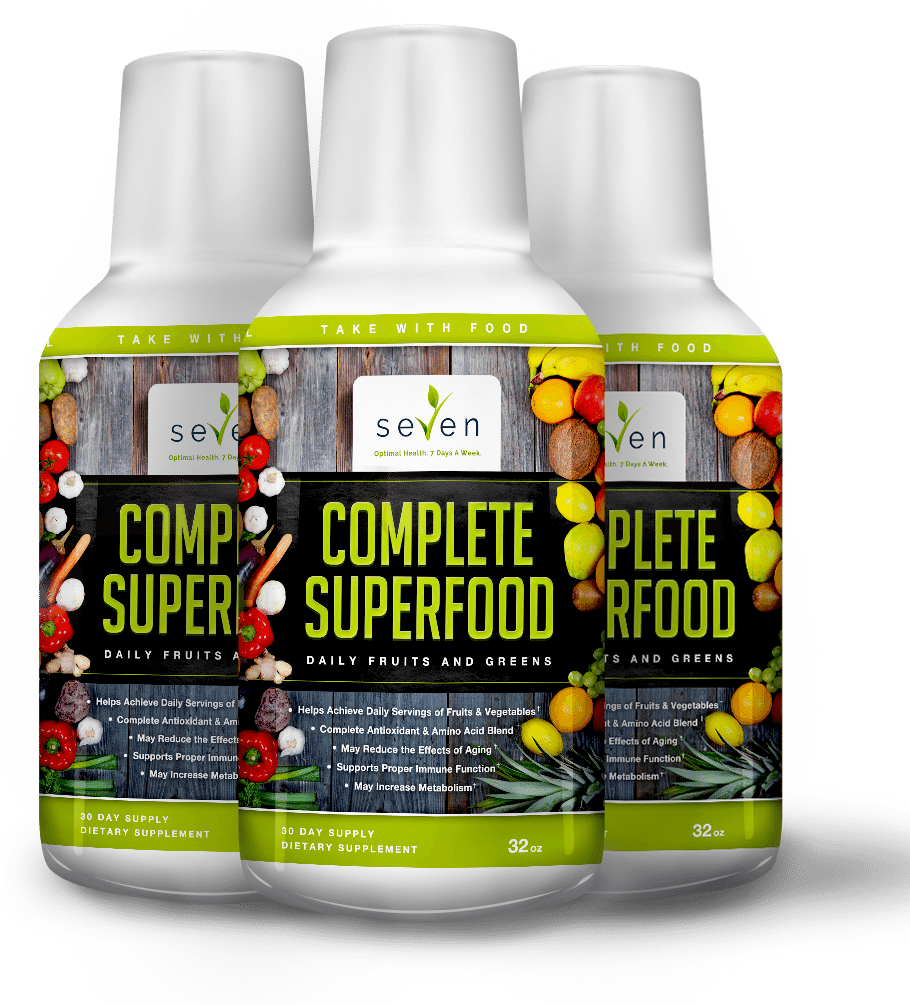 Complete Superfood May Help With:
Provide Natural Energy *
Promote Mental Acuity *
Naturally Reduce Cravings *
Reduce Oxidative Stress *
Reduce The Effects Of Aging *
Detox The Body *
NEED HELP? CALL US 844-803-8484

100% Satisfaction Guarantee Or Your Money Back!
When you order your first bottle of Complete Superfood right now, you're protected by my 60 day no quibble guarantee. Which means you've got 60 days to try it out. If it gives you the benefits you're looking for, great. If it doesn't, just let us know by sending us an email at support@sevennutrition.com OR by calling us at 844-803-8484 and you'll get a full and prompt refund.
What if my Doctor says I shouldn't take it?
We've never had a customer say this yet. However, if you order today to lock-in on this special offer, you're backed by our Money Back Guarantee.
How many bottles should I order?
We always suggest savings now, if you are on this page, you are looking at the best possible prices we have to offer. Ordering multiple bottles now gains max savings vs buying a single bottle when needed. It's best to take advantage of these super low prices while you can and save big. You can always return what you don't use if you decide they just aren't for you.
H

ow long will my order take to ship? 
All of our orders are shipped out within 48hrs. Typically, we try to get them out within 24hrs. You will receive a confirmation of shipment with a tracking number when it goes out.
Is Complete Superfood ok for diabetics and people with blood sugar issues?
Yes, Complete Superfood does NOT contain any added sugar or artificial sweeteners. Each serving is low in sugar and diabetic friendly. In fact, there is the same level of sugar in a single serving as there is in a serving of Broccoli.
Will this price always be available?
Our pricing may fluctuate depending on the availability of our ingredients, all our products are made with premium quality ingredients which tend to be more difficult to find, this can cause price fluctuation and even availability.
*Disclaimer: These statements have not been evaluated by the Food and Drug Administration. The products and information contained herein are not intended to diagnose, treat, cure, or prevent any diseases or medical problems. It is not intended to replace your doctor's recommendations. Benefits may vary from one person to another.
Testimonials on this page were provided by real Seven Nutrition customers for a minimum of 30 days. In return for their honest feedback on Seven Nutrition products they were offered one free 30 day supply of dietary product. Images used with the testimonials are not real in order to protect the privacy of these people.
NEED HELP? CALL US 844-803-8484