FLASHSALE: PREMIUM GRADE TURMERIC CURCUMIN
UP TO 69% OFF
PLUS FREE SHIPPING!

100% Satisfaction Guarantee Or Your Money Back!
When you order your first bottle of Premium Grade Turmeric Curcumin right now, you're protected by my 60 day no-quibble guarantee. Which means you've got 60 days to try it out. If for some reason you don't get the results you desire, just let us know by sending us an email at support@sevennutrition.com OR by calling us at 844-803-8484 and you'll get a full and prompt refund.
Turmeric Curcumin May Help You:
Reduce Joint & Arthritis Related Pain *
Can Help Promote Liver, Heart, and Digestive Health *
Assists In Protecting Against Cognitive and Memory Defects *
Helps Lower Blood Cholesterol Levels *
Can Help Naturally Fight Symptoms Of Depression *
May Help Reduce Blood Glucose Levels and Reverses Insulin Resistance *
Can Have a Marked Ability To Inhibit Cancer Cell Growth *
DON'T GO TO AMAZON AND PAY $47!
NEED HELP? CALL US 844-803-8484
Our pricing may fluctuate depending on the availability of our ingredients, our premium quality ingredients tend to be more difficult to find, which can cause price fluctuation.
We pride ourselves on the very best quality which is why our Turmeric Curcumin is 3rd party tested to make sure you are buying exactly what we say you are buying, which is the best quality Turmeric Curcumin on the market. Very few other brands take this extra step to ensure the quality of their product. We also include BioPerine® which is necessary to increase the absorption into your body for maximum therapeutic benefits.
Bioperine is really just a fancy scientific name for black pepper. The pepper helps boost the absorption rate of the Turmeric by up to 2000%, making sure you get the absolute most out of every serving.
Because it is a natural root there is very little reason you should be concerned with allergies. It's Vegan friendly, Non GMO, Gluten Free, and Dairy Free. See Supplement Facts Here.
What if my Doctor says I shouldn't take it?
We've never had a customer say this yet. However, if you take advantage of this Flash Sale Offer, you're protect by our no-quibble Money Back Guarantee.
What's the difference between this and the turmeric powder I can buy in the spice isle of my local grocery store?
The main active ingredient in Turmeric is Curcumin, which is where the benefits come from. The amount of curcumin in the powder on your spice isle varies. Our product has a standardized curcumin level to achieve maximum therapeutic benefits. And since we do 3rd party testing, you know you are getting the maximum benefits.
How many bottles should I order?
Results vary from 1 week to 3 months. Just like anything, your body is unique and will react differently than others.
That said, if you are on this page, you are looking at the best possible prices we have to offer. It's best to take advantage of these super low prices while you can and save big. You can always return what you don't use if you decide this just isn't for you.
H

ow long will my order take to ship? 
All of our orders are shipped out within 48hrs. Typically, we try to get them out within 24hrs. You will receive a confirmation of shipment with a tracking number when it goes out.
Is this an auto ship program, will I be billed again when I don't want to be?
Absolutely NOT! We do not believe in fooling you into a long term commitment. Buy from this page with confidence knowing that you will only be charged for what you select.
First-Time Customer Discount
1 Bottle - 30 Day Supply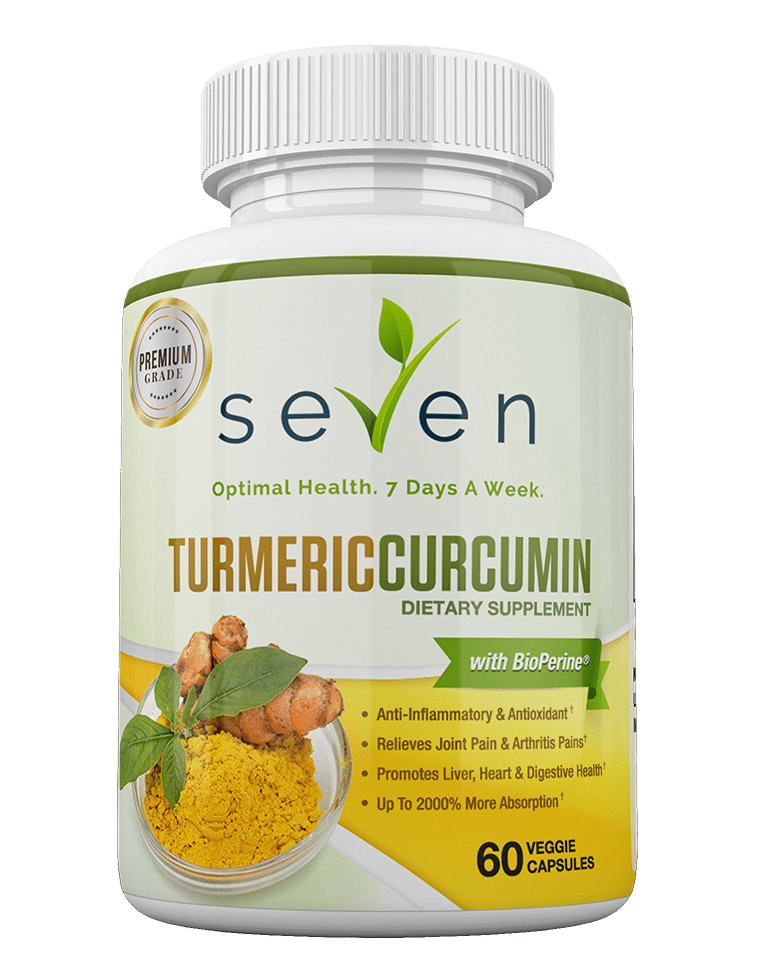 GET IT NOW
No Autoship Programs
Free Shipping
3 Bottle Family Pack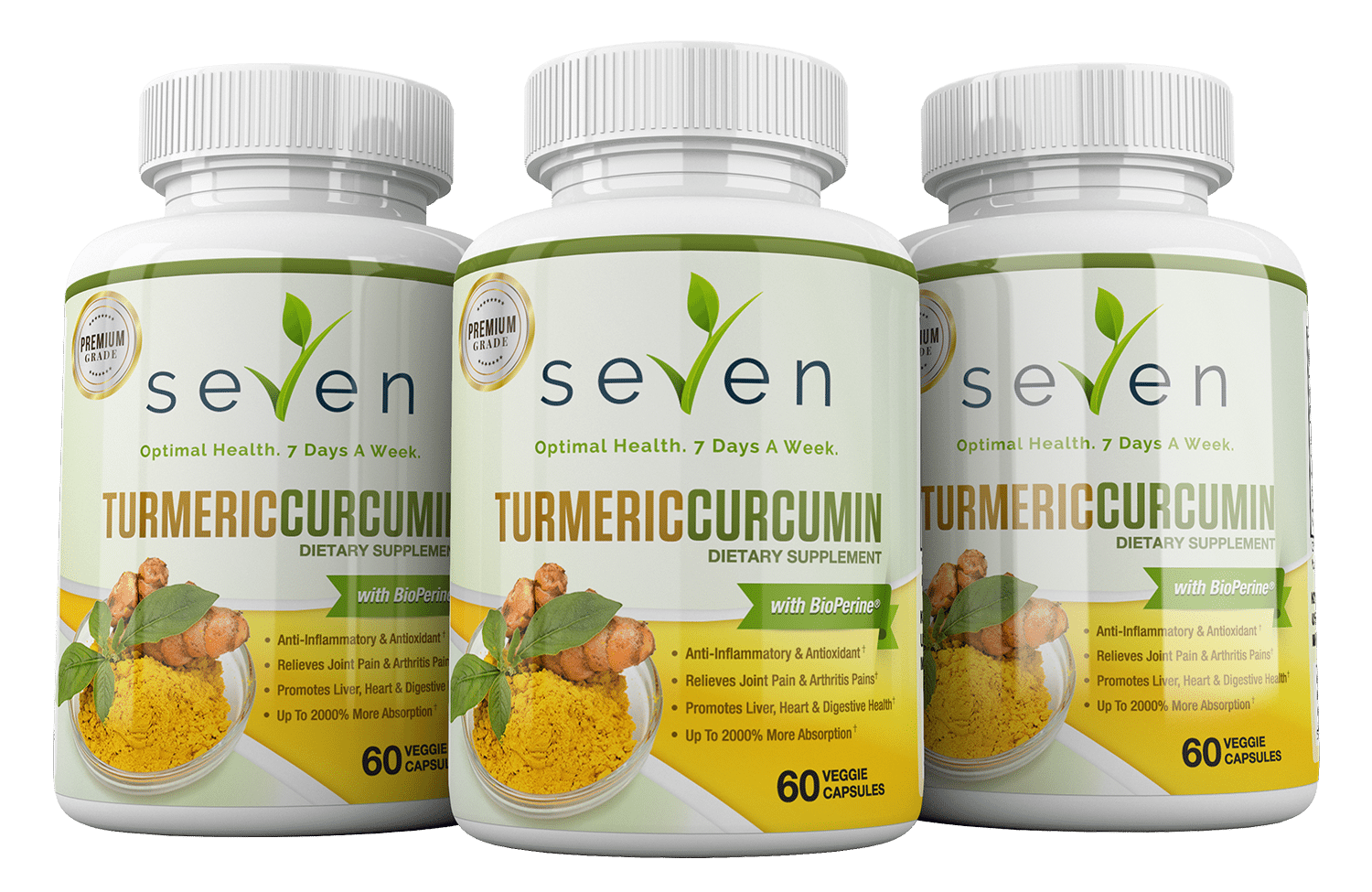 $141$45Save $96 Instantly
ONLY $15/bottle
GET IT NOW
No Autoship Programs
Free Shipping
What Folks Just Like You Are Saying About Our Turmeric...
† Testimonials on this page were provided by real Seven Nutrition customers for a minimum of 30 days. In return for their honest feedback on Seven Nutrition products they were offered one free 30 day supply of dietary product.
Hi, Since we started taking Seven Nutrition Vitamins, Turmeric Curcumin…
My Wife & I ,Betty 89, I, 91 Feel so much better. Betty is cooking again, I passed my drivers test no problems, I'm now mowing the lawn & working in the shop. Thank you! † Individual Results May Vary

Robert O.,

Kalispell, Montana
Hi, I am 72 and have suffered from R.A for about 40 years. I was always given pain killers, which worked fairly well but my hand joints kept getting larger and the pain increased. I tried store brand Turmeric and was happy with the reduced pain. I then tried Seven Brand Turmeric and was amazed at the improvement. The pain has decreased to where I only take 1/2 dose of pain killer AND it seems that the joints have actually decreased in size! Also, my flexibility has increased in my fingers and that is great. My R.A was bad enough that I could not pick up anything heavy with a thumb grip - I would use my fingers and the palm of my hand. I am HAPPY to report that I can now pick up things that I previously could not. That makes my life so much better! † Individual Results May Vary

DeWaine Y.,

Sierra Vista, Arizona
For 20 years I have suffered with degenerative disk disease and have had both my hips replaced. Stress, pain and inflammation is something I live with on a daily basis. I started taking Turmeric Cucurmin several months ago and have since had significant reduction in stress, pain and inflammation. My husband and friends are now believers in the healing power of turmeric. † Individual Results May Vary

Pauline M.,

El Dorado Hills, California
As an 83 yr old I was thinking my lack of energy and fuzzy feelings were just a natural part of aging. For some reason your Turmeric Curcumin caught my eye and after just a few days I feel so much better and your product is the only life change. The word that comes to mind is 'regenerated.' † Individual Results May Vary

Jacci M.,

Spokane Valley, Washington
I have been using your Turmeric Curcumin for about a month. I have arthritis in my hands and knees and find this supplement is helping. I am 83 years old but still very active and want to stay that way as long as possible. Thank you for your helpful product. † Individual Results May Vary

Harriet F.,

Durham, New Hampshire
Eczema on my face disappears when i take your Curcumin. I know this because it comes back if i don't take for a few days. It works on headaches better than Advil. And improves my focus... And since this is the most powerful Curcumin out there, I'm sure its giving me the best benefits in my body. Thanks for an A+ quality product (and its vegan friendly). † Individual Results May Vary

Ezra L.,

Edison, New Jersey
I have tried many different products to deal with inflammation associated with Arthritis. Your Turmeric Curcumin supplement has helped tremendously. I have only been taking the supplements for a short while but my episodes have subsided significantly. Thank you. † Individual Results May Vary

Johnny S.,

Whittier, California
I have been taking your Turmeric and PureKrill for about a month now. I have lived with chronic widespread body pain for over 4 years now. Since taking your supplements, I have been able to reduce my pain meds by over half! I am hopeful that in time, I will be able to get off all pain medicine for good. Thank you for your wonderful supplements and support. † Individual Results May Vary

Courtni S.,

Ingleside, California
I was taking Naproxen for aches and pains associated with back problems. I no longer take Naproxen. I use the Turmeric Curcumin daily and my daily aches and pains are gone. I know this is directly related to the Curcumin and Turmeric because it is the only change I made. I sometimes have to eat a bite with it, a little spicy, but it works! And it's even helping military veterans! Turmeric has been a blessing for me. More alert and even losing weight. † Individual Results May Vary

Sergeant First Class Gary M., U.S Army Retired.,

Sun City Center, Florida
Research References:
How Inflammation Affects Every Aspect of Your Health - Dr. David M. Marquis, DC, DACBN - http://articles.mercola.com/sites/articles/archive/2013/03/07/inflammation-triggers-disease-symptoms.aspx
What you eat can fuel or cool inflammation, a key driver of heart disease, diabetes, and other chronic conditions - Harvard Health Publications - http://www.health.harvard.edu/family-health-guide/what-you-eat-can-fuel-or-cool-inflammation-a-key-driver-of-heart-disease-diabetes-and-other-chronic-conditions
The Good, The Bad and the Ugly of Inflammation - By William Snyder - https://www.mc.vanderbilt.edu/vanderbiltmedicine/the-good-the-bad-and-the-ugly-of-inflammation/
New York Attorney General Targets Supplements at Major Retailers - By ANAHAD O'CONNOR - http://well.blogs.nytimes.com/2015/02/03/new-york-attorney-general-targets-supplements-at-major-retailers/
Curcumin May Help Lower Your Inflammation - By Dr. Mercola - http://articles.mercola.com/sites/articles/archive/2015/02/09/curcumin-helps-lower-inflammation.aspx
Curcumin and Cancer Cells: How Many Ways Can Curry Kill Tumor Cells Selectively? - By Jayaraj Ravindran, Sahdeo Prasad, and Bharat B. Aggarwal - https://www.ncbi.nlm.nih.gov/pmc/articles/PMC2758121/
The effect of curcumin (turmeric) on Alzheimer's disease: An overview - Shrikant Mishra and Kalpana Palanivelu - https://www.ncbi.nlm.nih.gov/pmc/articles/PMC2781139/
*Disclaimer: These statements have not been evaluated by the Food and Drug Administration. The products and information contained herein are not intended to diagnose, treat, cure, or prevent any diseases or medical problems. It is not intended to replace your doctor's recommendations. Benefits may vary from one person to another.
† Testimonials on this page were provided by real Seven Nutrition customers for a minimum of 30 days. In return for their honest feedback on Seven Nutrition products they were offered one free 30 day supply of dietary product. Images used with the testimonials are not real in order to protect the privacy of these people.
NEED HELP? CALL US 844-803-8484