This dish is low in sodium because it is hard on kidneys and raises blood pressure. Most people should limit sodium to 1,500 milligrams per day.
This recipe is also low in potassium too.  When you are suffering from kidney damage, potassium levels in the bloodstream will become elevated.  High potassium levels lead to Heart Arrhythmia.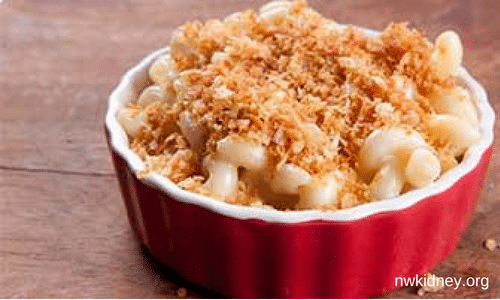 Ingredients:
Based on 8 servings per recipe.
3 cups elbow, small shell or bowtie pasta
2 tablespoons flour
2 tablespoons butter or margarine
2 cups milk
1 teaspoon dry hot mustard
1 teaspoon paprika
1 tablespoon fresh thyme or tarragon, chopped
2 cups cheese (gouda, cheddar, or any combo)
to your taste croutons or chopped almonds
Preparation:
Heat oven to 350 degrees.
2. Boil pasta in a large pot until al-dente.
3. Meanwhile, in a 2 cup glass measuring cup, measure flour and butter. Microwave about 1-2 minutes until golden brown.
4. Slowly stir in milk and continue microwaving until thickened. Stir in spices and herbs.
5. Mix drained noodles, sauce, and cheese and put in a greased casserole dish. Bake about 20 minutes.
6. Top with croutons or chopped almonds in the last 5 minutes.
Recipe and photo complimentary of Homemadenutrition.com
---
High blood pressure can 
lead

 to kidney issues…if you suffer from high blood pressure, try this Blood Pressure Support>>>
---
What did you think about this article?