Beans and barley are great sources of dietary fiber. Fiber aids in digestion and keeps you feeling full so you won't snack throughout the day.
Barley is a secret weapon to help control diabetes, its the lowest glycemic grain and has a load of nutritional content.
The American Diabetes Associate advises people with diabetes to include dried beans or no sodium canned beans in your diet.  They are also low on the glycemic index and can help manage blood sugar levels along with other great nutritional benefits.
For an extra kick, substitute 1 finely chopped poblano chile pepper for the green bell pepper and add the ground red pepper.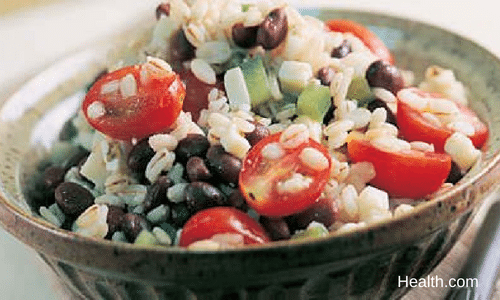 Ingredients
• 1 cup uncooked quick-cooking pearl barley
• 1 (15-ounce) can black beans, rinsed and drained
• 1 pint grape or cherry tomatoes, halved
• 1/2 cup finely chopped green bell pepper
• 1/2 cup (2 ounces) Monterey Jack cheese with jalapeño peppers, cut into 1/4-inch cubes
• 1/3 cup lemon juice
• 2 tablespoons olive oil
• 1 teaspoon salt
• 3/4 cup fresh cilantro leaves (optional)
• 1/8 teaspoon ground red pepper (optional)
Step 1
Cook barley according to package directions, omitting salt. Drain barley in a colander, and rinse with cold water until completely cooled.
Step 2
Combine black beans, next 6 ingredients, and, if desired, cilantro and red pepper in a medium bowl. Add barley to black bean mixture; toss gently.
Recipe and photo complimentary of Health.com
Try these "All Natural" ways to maintain healthy blood sugar levels:
What did you think about this article?