Squash…and blueberries in a smoothie, why not? "It can be challenging to get the recommended servings of vegetables into the day, so using fresh yellow squash is the perfect way to sneak in a serving of those veggies," says Amber Ketchum, M.D.S., R.D., of Homemade Nutrition. "The squash adds fiber, vitamin C, and energy-boosting B vitamins. And it helps create a great creamy texture."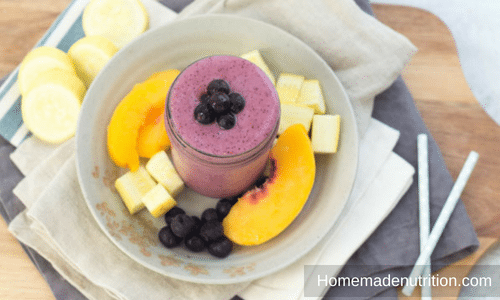 Ingredients:
1/2 cup fresh or frozen blueberries
1 cup fresh or frozen peaches
1/2 cup chopped yellow squash (raw)
1/2 cup plain or Vanilla Greek yogurt
1/2 cup water
4-5 ice cubes if using fresh fruit
Directions:
Place all ingredients in a blender and blend at least one minute or until the ingredients are completely combined and the smoothie is creamy.
Recipe and photo complimentary of Homemadenutrition.com
Related Article:  THE IMPORTANCE OF GETTING THE RIGHT NUMBER OF VITAMINS AND MINERALS
What did you think about this article?