Diets that are rich in potassium, magnesium, fiber and lower in sodium are great if you have a blood pressure concerns.
Potassium helps your kidneys filter sodium through your urine, as a result, helps lower your blood pressure.
Keep in mind that canned vegetables often contain added sodium, it's wise to use frozen vegetables that contain equivalent nutrients to that of fresh vegetables.
A study showed garlic to help reduce hypertension by increasing the nitric oxide in the body.  Incorporating flavorful herbs and spices into your daily diet can also help you cut back on your salt intake.  Examples of herbs and spices you can add include basil, garlic, thyme, and rosemary.
Ingredients:
1 tablespoon extra-virgin olive oil
8 ounces chicken tenders, cut into bite-size chunks
1 small zucchini, finely diced
1 large shallot, finely chopped
½ teaspoon Italian seasoning blend
⅛ teaspoon salt
2 plum tomatoes, chopped
1 14-ounce can reduced-sodium chicken broth
¼ cup dry white wine
2 tablespoons orzo, or other tiny pasta, such as farfalline
1½ cups packed baby spinach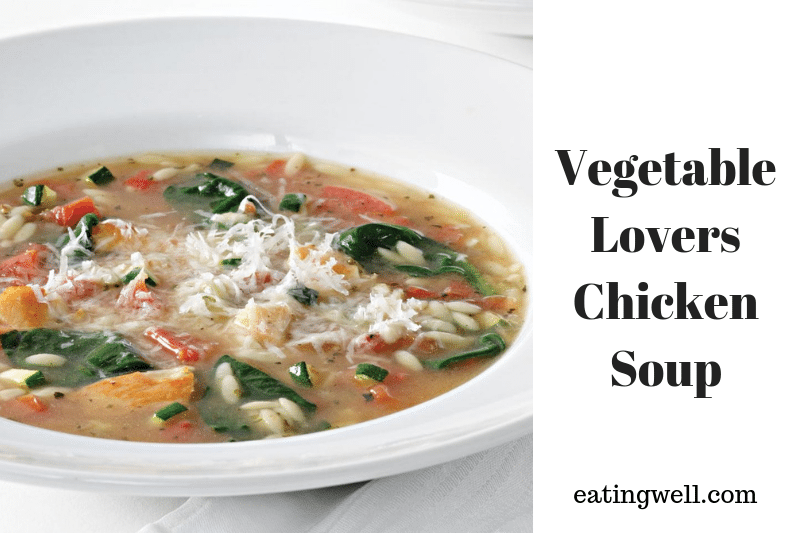 Instructions:
Heat oil in a large saucepan over medium-high heat.
Add chicken and cook, stirring occasionally, until browned, 3 to 4 minutes. Transfer to a plate.
Add zucchini, shallot, Italian seasoning and salt and cook, stirring often, until the vegetables are slightly softened, 2 to 3 minutes.
Add tomatoes, broth, wine and orzo (or other tiny pasta); increase heat to high and bring to a boil, stirring occasionally.
Reduce heat to a simmer and cook until the pasta is tender about 8 minutes, or according to package directions.
Stir in spinach, the cooked chicken and any accumulated juices from the chicken; cook, stirring, until the chicken is heated through, about 2 minutes.
Make Ahead Tip: Cover and refrigerate up to 3 days or freeze up to 3 months.
Recipe and photo complimentary of eatingwell.com
What did you think about this article?