Salads are one of the simplest and healthiest choices for a meal you can eat.
They are high in fiber which can lower cholesterol and prevent constipation, the fiber will also help you feel fuller which can lead to weight loss.
Most salads will include a variety of vegetables which we all know are a necessity for one's health.  Vegetables are loaded with antioxidants which help protect your body from free radicals and help prevent disastrous diseases.
Eating healthy fats such as the monounsaturated fats found in olive oil will help absorb protective phytochemicals found in the vegetables you include.
All in all, a healthy salad is the perfect healthy meal if made with care, check out this amazing salad we found from bonappetit.com.
INGREDIENTS
Dressing
1 jalapeño, seeds removed, chopped
1 4-inch piece turmeric, peeled, chopped, or ¾ teaspoon ground turmeric
1 1-inch piece ginger, peeled, chopped
1 garlic clove, crushed
1 cup coarsely chopped cilantro
¼ cup olive oil
½ teaspoon finely grated lime zest
3 tablespoons fresh lime juice
Kosher salt
Salad and Assembly
3 ears of corn, husked
2 yellow bell peppers
4 ounces Sun Gold or cherry tomatoes
2 endive, leaves separated, halved if large, or 1 large head of frisée, torn into bite-size pieces
2 cups dandelion greens or arugula
Kosher salt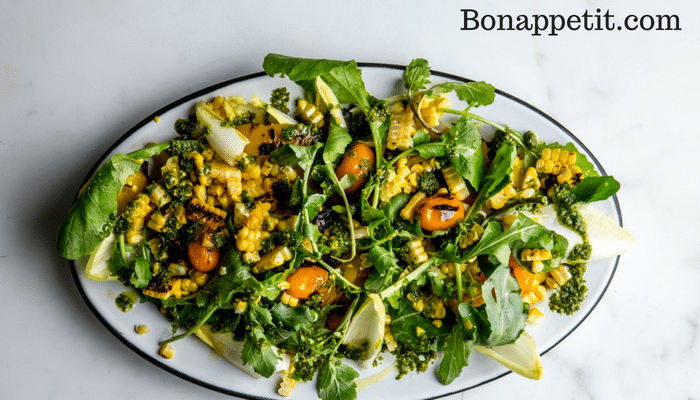 Note:  The pepper skins add smokiness to the salad, so don't peel them.
RECIPE PREPARATION
Dressing
Pulse jalapeño, turmeric, ginger, garlic, cilantro, oil, lime zest, and lime juice in a food processor until smooth with a few flecks of cilantro. Transfer to a small bowl; season with salt.
Salad and Assembly
Prepare a grill for high heat. Grill corn, turning occasionally, until charred and cooked through, 6–8 minutes. Let cool; cut kernels off cobs and place in a large bowl. (Or, cut kernels from cobs and char in a dry cast-iron skillet over medium-high, 8–10 minutes.)
Heat broiler. Broil peppers on a rimmed baking sheet, turning occasionally, until blackened in spots and nearly cooked through, 12–18 minutes. Let cool; cut into 1″ strips, retaining as much charred skin as possible; add to corn.
Broil tomatoes on same baking sheet, tossing once until blackened in spots and starting to burst about 5 minutes. Let cool. Add tomatoes, endive, and greens to corn; toss to combine. Drizzle dressing over and toss to coat; season with salt.
Recipe and photo complimentary of bonappetit.com

What did you think about this article?